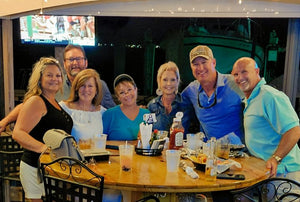 Downtown Morehead is the culture, entertainment, and dining hub of the Crystal Coast-luckily,
Sugarloaf Deli and Yellowfin Pub
is right in the heart of it. Located on Evans Street, directly in front of the main strip,this quaint waterfront restaurant sits sandwiched between Arendell Street. Whether you're sitting topside upstairs or out back on the docks, you're always guaranteed a great meal and a show.  While you are relaxing  with a fresh salad, sandwich, and  cocktail, be on the lookout for wild ponies, dolphins, and assorted water birds all located on and around this restaurant's namesake - Sugarloaf Island!